Perfect Smile Dental Clinic | Good Dentist in Caranzalem, North Goa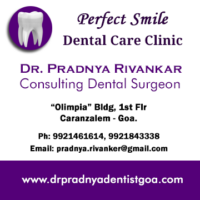 Dr. Pradnya Rivankar, the consulting Dental Surgeon in Caranzalem has years of experience in advanced and specialized dental care treatments. If you are doing a research to find a good dentist in North Goa, then Perfect Smile is the right place to visit. So, have a flawless, natural-looking smile in this clinic and change  the way people think about you.
When it comes to dental care, each of you have many choices to choose from. Perfect Smile aims to provide dental experiences and results that surpass your expectations. So, book your appointment now or send us your queries and feedbacks by Clicking Here!
INFORMATION
email: dr.pradnyadentist@gmail.com
Website: http://www.drpradnyadentistgoa.com
Contact Us: 9921461614 / 9921843338 / 9552866749
Address:
Perfect Smile Dental Clinic

Olimpia Building, 1st Floor,
Above Syndicate Bank ATM,
Next to Kamat Royal Kerant,
Caranzalem – Goa
403002